Venture Capital is More Often Vulture Capital & Angel Investor is an Oxymoron!
For MOST existing entrepreneur business and practice builder, there are plenty of capital and funding options to funding entrepreneurial growth – just that they all generally SUCK!
Why do they SUCK?  Because they are NOT strategic… and they are NOT aligned with the dreams and desires of the entrepreneur or their position in the market.
There are typically two flavors of this Crap Cream Cone — either Dastardly Debt or Excruciating Equity.
If your capital needs do not fit in the traditional box, the A.I. Bot Overlords of debt are programmed to maximize THEIR ROI leveraging your pain to return their capital in the shortest timeframe possible. They may facilitate capital, but their interest is quite literally their interest… NOT yours!
Angel and Venture Capital are not ALL bad.  To paraphrase a line from The Princess Bride, one of my favorite entrepreneurial movies of all time, "They are just MOSTLY bad".
A solid and successful entrepreneur business or practice builder may not want (nor legally be able to) take on equity partners.  Even if they could, the needs and the vision often just don't strategically align for it to be a great solution across the board.
Entrepreneurs need capital all the time.  But to transition from incremental to exponential, they require JET FUEL CAPITAL –  specific capital to dramatically change their trajectory; to take their business to the next level.
Current options fall short as they are present binary choices for different variations suck!  We understand this pain because this is where we live.  This is where our entrepreneur clients live.
Real entrepreneurs experiencing the same capital pains – pains you've also very likely experienced on your entrepreneurial journey.
Strategic Growth Acceleration Capital™ is the right ammunition, in the right weapon, with the right targeting system, in the hands of a trained sharpshooter, aimed at a specific target along with a trained and experienced spotter with eyes on the target sitting right beside you.
There is no such thing EVER as a sure thing – but why not create as many factors in your favor as possible while removing as much risk as you can?
2X ALPHA R&D Experiment Focused Initially on Kahuna Accounting
2X Alpha is the first of several planned entrepreneurial experiments regarding aligned SGA™ Capital.  If you chose to participate as a sponsor, you will have ROFR (Rights of First Refusal) to participate in all future endeavors.
We certainly can't make any promises yet… But, as we prove and refine this concept, you'll have opportunities (without any obligation) to participate in other controlled experiments.
Beyond simply the valuable capital and funding aspect, our vision is to develop an applied capital framework with Dynamic Guidance Acceleration Accounting™ at the core providing open architecture transparency as well as connected accountability.
This is not an investment in a security or a traditional financial investment.  It is a sponsorship for a journey of entrepreneurial discovery.  If we are successful, you will receive a 2X Royalty Reward along with open architecture information, benchmarking, documentation and sharing of the lessons learned along with how we plan to adapt.
We value collaboration and plan to openly share everything with our strategic partners so you can adapt and apply to your own situation and opportunities.

Proof Of Concept
We understand and have great anecdotal examples of SGA Capital and we are ready to put it to the test in a planned and controlled experiment.  We have a specific plan to test and apply the practical concept of  Strategic Growth & Acceleration™ Capital in our business.

Why Not More?
Simply put, because we are taking full responsibility of this experiment. We would be happy enough to test if we only get 20 units as we can show $100,000 just as easily as $250,000 for our initial proof of concept, $250,000 is just the max for this 2X Alpha experiment.  

Our Big Reason Why
 This allows us to test a new category of capital for those that keep our economy alive and strong, entrepreneurs. We believe we can convert and prove the SGA™ Capital concept within 1 to 3 years – or even sooner, through the test program of 2X Alpha. 
SGA™ Capital is Jet Fuel to Elevate & Accelerate from Incremental to Exponential
Most people are incremental; they make small changes to see small gains over a long period of time. Incremental entrepreneurs would shy away from this opportunity. This opportunity and model is a practical (and candidly) a META entrepreneurial way to test how capital can be Jet Fuel to transform from incremental to exponential.
This may seem a little overdramatic, but I actually had to tone it down a bit.  We have a responsibility to share our vision and plan despite the fact most people will not get it nor fully appreciate our motivation for what we are attempting.  And that's actually OK.
Although we've been studying and developing this SGA™ Capital concept centered around entrepreneurial accounting for years, the practical application is still "bleeding edge" — as opposed to normal leading edge.
Right now, all the risk is on us.  True entrepreneurs (who are building or have built real enterprises) will understand and appreciate this.  They'll still expect transparency and accountability for results from us — but we know they'll understand the larger context for the potential to better serve entrepreneurs.
We don't want to convince anyone who does not share a similar vision.  The potential for capital is valuable.  The future potential to work with and collaborate with other aligned entrepreneurs is even more valuable.
Before I Jump Into Program Details, Let Me Ask You the Same Question with a Slight Jay Abraham Twist
If Jay Abraham (or Roland Frasier or Perry Marshall or Dan Kennedy or (insert your trusted Guru/Mentor) was willing to work in your business specifically on the part of your business you felt had the most significance with the highest probability for long term ongoing value creation…
Assume everything the same as before… we offer you $100,000 to pay for Jay (our whoever your top mentor is) and the investment inside of your business.
The only "Ask" is that as soon as you and your SGA™ DREAM Team convert the capital to (3X) — or build a new ongoing profitable money machine… we get our initial (1X) investment back plus a royalty reward of the additional (1X).
After this is repaid, you continue to reap from the harvest you created with your team and never owe me or anyone else anything more nor did you have to forcibly give up equity or control.
Does this sound like an entrepreneurial endeavor you might be interested in participating in – possibly on both sides of the capital value equation??
Candidly, we can't wait to offer similar programs to our entrepreneurial clients and peers through a broader and more systematized program in the future.  We need to prove our concept and the support logistics first.
This is exactly why we organized this program – and why we are starting with the ALPHA target investing in Kahuna Accounting — as a system for visibility and strategic alignment for all relevant stakeholders who provide value to the entrepreneur.  This is also why we're sharing our ALPHA test with you first.
Entrepreneur or Investor? You Are Both! 
Testimonials  (Your Name & Quote Here)
We clearly don't have any testimonials because this is an ALPHA Test.  We expect to learn a great deal as we pioneer a new frontier of a new niche within a new category of capital. It will certainly not be perfect.  Things will not work out like we think in all circumstances.  Regardless, we will be accountable and expect to earn your respect, your trust and ideally your testimonial.  We also plan to earn the future opportunity to collaborate with you and others you trust in future projects and endeavors.
"This Was Awesome Quote" Here
Proof of Concept – Oversimplified Concept of 1-2-3X
We understand and have great anecdotal examples of SGA Capital and we are ready to put it to the test in a planned and controlled experiment.  We have a specific plan to test and apply the practical concept of  Strategic Growth & Acceleration™ Capital in our business.
Our plan is to test our assumptions in a very open and public way to demonstrate the power and application of a small amount of this specific category type of capital applied to this category of entrepreneur (ourselves).  In addition to demonstrating, we will also track and document every aspect of this experiment. 
As we have real data and results (regardless of good or bad) we will aggregate and share the data, information and lessons learned to build frameworks for additional future tests; for ourselves as well as in collaboration with our new community of entrepreneurial friends and sponsors.
To keep this super simple for now, the concept we are testing is basically 1-2-3X.  Please bear with me through the explanation as it will make sense as it unfolds… along with the intentional simple structure for now.
NOTE — For the sake of example, please understand 1-2-3X is a conceptual illustration – REALITY will NOT be this clean, direct, or efficient.
1X = Starting Capital — Whatever capital is created through this special offer.  No specific Minimum, but a Maximum of $250,000.  For sake of example we will say 1X = $250,000. 
2X = Return Multiple for initial investment as a Royalty Reward for sponsorship of experiment.  For sake of example we will say 2X = $500,000.  
3X = Target of Internal ROI for initial 1X capital initially deployed inside the business to create new capital via strategic innovation and/or optimization.  For sake of example we will say 3X = $750,000.   
Putting it all together:
1X = Starting Capital                                                                = $250,000
3X = Internal Capital Creation (Variable of Time) = $750,000
2X = Royalty Reward — Return to Sponsors             = $500,000
1X = New Capital Created to Parlay/Reinvest       = $250,000
Our plan is to organize and create an initial 1X of capital funding (up to $250,000) to strategically deploy inside of Kahuna Accounting to demonstrate a 3X internal return within as compressed a timeframe as both possible AND prudent (ideally 12-36 months).
$250K to deploy internally to create 3X (either $750K or a cash flow equivalent*) to pay back 2X ($500K) Royalty Reward to Sponsors (1X of Initial Purchase + Matching 1X (2X Total) as a Royalty Reward.
Full Disclosure – When 3X threshold target is achieved and after 2X is paid to sponsors as a royalty, Kahuna will keep 1X — or possibly even more — including all monies created beyond the return of the 2X royalty reward commitment.
This "created capital" is actually a major program attribute — Everything created beyond initial royalty commitment is ours to keep – now and into the future – without debt* or obligation.
* There could be a business decision made to convert ongoing cash flow with high probability of continuation into a traditional low interest loan to accelerate payoff of 2X obligation as a reward to strategic & aligned sponsors – as well as to cultivate confidence in future opportunities.  This is a component of practical discernment and decision making within our Alpha Test.

Why Not More?
There are only 100 units available at $2,500 per unit. That equals $250,000 total for this 2X Alpha experiment… Why not more? Because we are taking full responsibility of this experiment. We would be happy enough to test if we only get 20 units as we can show $100,000 just as easily as $250,000 for our initial proof of concept, $250,000 is just the max for this 2X Alpha experiment.  We're looking to generate a 3 to 5X return – or even more in 1 to 3 years – or even sooner.
Why 2X?
We envision this program to develop into future tests as well as ongoing joint venture collaborations with many of our initial sponsors.  We envision the (X) Variable — as a Royalty Reward — to typically be somewhere between 1.5X and 2.5X depending on factors like risk, expected timeframe, and other variables we will be testing.
Why 2X? – Because it is simple and conceptually cleaner as an experiment.  2X is a more tangible and understandable than a 1, 1.75, 3X Test.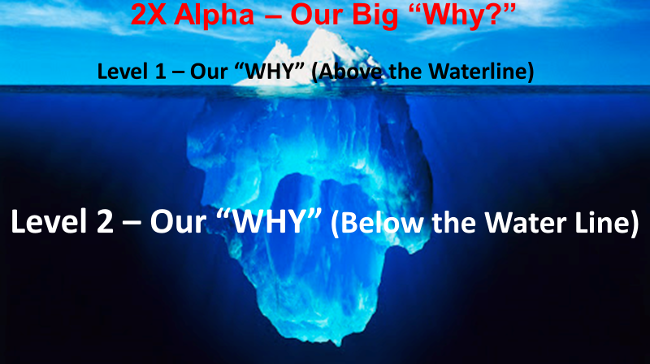 Our WHY (Above the Waterline)  – DUH!
We believe we can convert and prove the SGA™ Capital concept within 1 to 3 years – or even sooner.  If we're unsuccessful, we'll still provide a 2X return of your initial purchase between $2,500 and $25,000 no later than 48 months from June 1st, 2020 — the start of this experiment.
If this all works as planned, you'll receive a 2X return on your bold action.  We'll certainly benefit.  We will have newly created funds to work with, make a lot of new friends, and will develop and enhance new and existing relationships.  We want to learn, test, document, and benchmark the program to expand our sphere of influence.
Our WHY (Below the Water Line)
This program intended to create new relationships and new opportunities within this new frontier of entrepreneurial growth capital.  It is also intended to build transparency and accountability via a unique and specialized Dynamic Guidance Acceleration Accounting™ system.
Our vision is to design and build a virtuous cycle to be utilized repeatedly.  We know this is future thinking,  but it's clearly in our plan.
This test program also provides the ability for us to structurally connect and develop alignment between capital focused entrepreneurs (aka Entrepreneur Investors)  and SGA™ focused entrepreneurs (aka Entrepreneur Capital Deployers) — who most likely will be the same people.
We believe the best way to create alignment and synergy with all the stakeholders is through a structured framework within our system of Dynamic Guidance Acceleration Accounting™.
This is a significant focus and a core aspect of our plan for the initial use of the capital we plan to attract for this program.  This is essentially our META capital funding for the system of a future capital funding ecosystem.
This is NOT a financial security or traditional investment.  This agreement represents an investment specifically to sponsorship the development and testing of a unique entrepreneurial capital program.
2X Alpha is a time-bound mission as an experiment of discovery to apply new thinking to improve current practices within a niche of capital we refer to as Strategic Growth Acceleration™ Capital.
This funding niche represents a major pain for most ambitious growth entrepreneur business builders.  This program exists to pioneer a solution to this pain.  Our focus is to create funding to deploy specifically within Kahuna Accounting via strategic innovation and optimization initiatives to achieve a demonstrable result of 3-5X or even more within 12-36 months or sooner.
Program Parameters & Offer: This research and development program – code name "ALHPA" – is a private $250,000 program designed as a live ALPHA Test and experimental program.  The primary goal is to develop and test assumptions specific to this capital type and entrepreneur type who will deploy it.
Program Participant – SPONSOR — NOT a Traditional Investor nor a Traditional Investment
Minimum Participation– One Unit ($2500)
Maximum Participation– 10 Units ($25,000)
Learning, Living, and Sharing "ALPHA" Test Program – Our focus is on practical real-world entrepreneurship capital and practical experiment to develop related "Thought Leadership" content. 
This capital concept is not new –  it is essentially how Christopher Columbus paid for his voyage to discover the Americas.  Queen Isabella was his aligned capital partner and was paid back as royalty to the Royalty.  Our goal is not to invent something new, but rather to work on making this capital easier to attract, deploy, successfully utilize and return value to the capital partner. 
Our focus is a virtuous cycle as opposed to mercenary capital.  We seek to make capital easier and more conventional for entrepreneurs in the future.
For FAQs, Click the Link Below
ALPHA R&D Test Program Parameters:
100 Participation Units at $2500 for total of $250,000 Maximum Funding

2X Targeted Return (100% Return)

Variable of Time (Planned for not longer than 36 months – but 48 months as a contingency)

This is a purchase of a program as a sponsor – it is NOT an investment. There is no interest accruing or interest compounding.  There is a planned redemption opportunity at the successful completion of the test and a guarantee of 2X in 48 months if test is less than successful.

There is a possibility if potential tax consequences of redemption opportunity (consult your tax advisor) We will provide some basic guidance related to sponsorship as an individual as well as a company, but it will be sponsor's responsibility to check with their own advisors.

Seat at the table to observe with information sharing and documented lessons learned to apply to the future.

Right of first of refusal for full opportunity but without obligation to participate in new Kahuna Capital related endeavors.

Future Membership into Kahuna's Legacy Capital Group (planned for future — but not promised)
Money created for any future program will only be used for those intended plans and will NEVER be used to create or fulfil existing redemption opportunities.
Participation Agreement: Participation Agreement will initially be between individual or entity and Kahuna Business Group, Inc. (KBGI) and Frank F. Lunn (FFL), CEO jointly.
Congratulations… Your Future is Now!
Time to Take Action — Either you are not the right Avatar – Or – you  don't have the vision – Or – you don't have the capital to invest even $2500 (either or both of those would basically disqualify you as our ideal avatar) – Or – You Simply Don't Know/Like/Trust me or Kahuna (ouch)  Hurts but I get it.