2X Alpha: A Message From Frank
Capital For Entrepreneurs….

Is Broken!
Capital is the lifeblood of every business.  Every entrepreneur business builder utilizes capital to create and build their business.  The strategic deployment and redeployment of capital to create a value exchange creates an opportunity for a surplus of value – which when recorded in a financial statement creates profit. (or the absence of a surplus creates a loss).
Every business owner utilizes capital to accomplish their goals and objectives.  Few entrepreneurs truly understand the distinction between ordinary tactical capital – for ordinary and important business objectives – and the entirely different category strategic capital.
A NEW Special Strategic Mission for Capital  In the military, every member — from the lowest recruit to the highest-ranking officer — serves a purpose and has both value and importance.  Some missions have higher strategic value – especially in warfare.  In this respect some elite military forces are specifically recruited, specially trained and intentionally deployed to accomplish specific and vital strategic missions.
In some respects, this is exactly the same with strategic entrepreneurial growth capital.  All capital is important and valuable for entrepreneurial business builders, but there are some missions requiring a special selection of your capital… specifically recruited, specially trained and intentionally deployed to accomplish very specific and vital strategic missions.
 The successful strategic capital deployment – including several subsequent redeployment missions within a compressed timeframe leads to overall mission success and then allows for the ultimate redeployment of this warrior capital to return to its initial benefactor.
 Aligned Revenue Royalty Capital- Capital Organized as a Strategic Joint Venture
Entrepreneurially Inspired & Designed  Jay Abraham is a world-class famous marketing expert and legend.  He may not have invented the concept of joint venture (what he originally called host-beneficiary arrangement), but he certainly popularized it and explored every angle and nuance of the opportunity to make it one of the most important tool in an entrepreneur's toolkit.
Jay Abraham perfected the framework for creating synergy with joint venture opportunities in marketing – aligning the parties to each contribute from their strengths to mitigate weakness and achieve more than either party could on their own.  What Jay Abraham did in marketing; we intend to do with Aligned Revenue Royalty™ Capital… creating synergy by aligning the parties to each contribute from their strengths to mitigate weakness and achieve more than either party could on their own.
Like Jay Abraham's advanced strategic joint venture concepts, we've studied, adapted, and applied cutting-edge strategies and tactics from some of the best business minds available.  A short non-inclusive recent list includes: Perry Marshall (Rosetta Stone – 80/20), Dave Frees (Strategic Force Multipliers), Roland Frasier (Short Game/Long Game), Donald Miller (StoryBrand), Pam Slim (Community), John Paul Mendocha (Position to Win), Aaron Fletcher, (Growth/Scale) and many others*.
*Note – None of these mentioned have endorsed or are in any way participating… (at least not yet).  Like with Jay Abraham, we utilized much of what we learned in the architecture and framework of this experimental concept.
Tip of The Spear – We're excited to be on the leading-edge of this unique opportunity related to innovative and aligned capital for growth entrepreneurs as unique deployers of capital.  Although not about us, the information below is provided for context and background information as it relates to this program as well as various stakeholders, participants, and future targeted clients.
This is our in-house entrepreneurial ALPHA capital experiment — designed to test several elements of a new model of short-term strategic capital deployment.  This is strategic capital organized for specific strategic missions.  When the missions are complete, the capital returns home along with a royalty reward created from the combination of strategic growth, cashflow and profitability improvements. 
This is not ordinary incremental working capital; It is Force Multiplier Capital "money on a mission!"
Paths Before Sidewalks  The practical concept of not engineering what can simply be observed and applied.  There is no perfect design, but we specifically chose the best elements of various capital programs with our focus to maintaining alignment with parties on all sides all the capital equation.  This is a practical test and we (Kahuna Accounting) certainly and unashamedly will seek to benefit from this living experiment.  It is not only our opportunity; it is our responsibility.
Our primary purpose, however, is the proof of concept in a program intrinsically and extrinsically valuable to ALL participating stakeholders — maximum value in the minimum time.
Carpe Aqualis! "Seize the Wave!"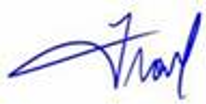 Frank F. Lunn, CEO
Kahuna Business Group, Inc.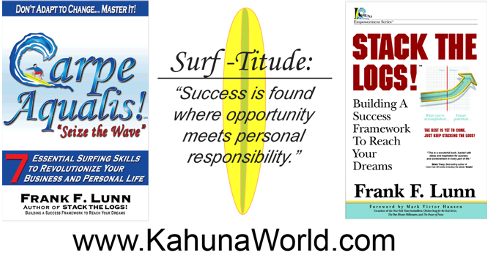 Learn More About 2X Alpha Now!